Local, State & National News
 Here you can find news stories we have compiled for your use.  
Please feel free to use and share this information.

HRSA Announces Highest HIV Viral Suppression Rate in New Ryan White HIV/AIDS Program Client-Level Data Report
A new report released today by the Health Resources and Services Administration (HRSA) shows that clients receiving Ryan White HIV/AIDS Program medical care were virally suppressed at a record level – 85.9 percent – in 2017. This means people living with HIV who take medication daily as prescribed and achieve and maintain an undetectable viral load have effectively no risk of sexually transmitting the virus to an HIV-negative partner. Read more here.
The NEW PrEP Services Locator
Greater Than AIDS has a PrEP Locator powered by Emory University available at 
GetPrEP.greaterthan.org
! This is a location-based, searchable tool that is user friendly for Peer Navigators and others working in community outreach settings as well as for use in other clinic sites. It even includes searching for PrEP sites that are for those without insurance. Click on the image below to check out the PrEP Services Locator.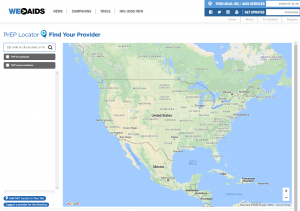 Gay and Bisexual Teen Males No More Likely than Heterosexual Teen Males to Engage in Several Sexual Risk Behaviors; Still at Substantially Higher Risk of HIV Infection

Click
here
the first nationally representative look at HIV-related risk behaviors among heterosexual, gay, and bisexual male high school students presented at the International AIDS Conference in Durban, South Africa.
The report highlights:
Evidence to suggest there are no significant differences in several HIV-related risk behaviors among U.S. male students in ninth through 12th grades who identify as heterosexual, gay, or bisexual;
Gay and bisexual teens at higher risk of injection drug use; and
the need for multiple-pronged prevention strategies.
HIV Among Women
Click
here
to view an updated CDC fact sheet on HIV Among Women. Look at the numbers, challenges in prevention, and what the CDC is doing to address HIV among women.
HIV Testing in Nonclinical & Community-based Settings
HIV testing can be conducted in a variety of settings, including nonclinical and community-based settings. These settings offer ease and comfort to those who may not regularly access medical settings, and also lends the opportunity for targeted HIV testing for high-risk populations. Click
here
to view a CDC guide that supports the implementation of HIV testing services in nonclinical settings in the U.S.
HIV and Smoking: Looking at the Impact
Treatments for HIV have advanced in the United States, where individuals who are living with HIV can expect to live as long as those who are not affected by the chronic condition.  However, this gain is severely compromised among those with HIV who smoke.  Smoking can diminish the help of healthy white blood cells, which are already jeopardized by the impact of HIV on the immune system, and contribute to inflammatory responses.  As a result, mortality rates for HIV-positive individuals who smoke are significantly higher than smoking or HIV alone. To learn more about the intersection of HIV and smoking and how the U.S. Centers for Disease Control and Prevention are making an effort to address smoking in this population, read the full article here.
Check out the CDC's "Tips from Former Smokers" campaign targeting efforts to urge individuals living with HIV/AIDS to stop smoking and meet Brian.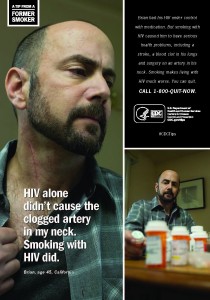 Meet Brian:
As a result of smoking and living with HIV, Brian suffered a stroke at the age of 43, requiring him to have surgery on the artery in his neck.  Now he is hoping that his story will help others quit smoking, especially among those who like him are living with HIV.  To read more about Brian and his full story click here.
(Photo: CDC Tips from Former Smokers Campaign. CDC.gov)